Tomorrow is my birthday, so instead of doing my normal music post on Wednesday, I am doing it today! AND I'm going to do something a little different... Hope that's alright with you guys =)
Today I'm going to show you guys some of the essential songs that are going on to my April playlist.
Yes, I make a new playlist ever month. I continually add to it throughout the month with new/old discoveries and downloads, then start all over the next month.
There is definitely a decent amount of country making its way back in to my playlists. Springtime means short shorts and country music- and Stagecoach! But more on Stagecoach another time.

Here is just a tiny little bit of April: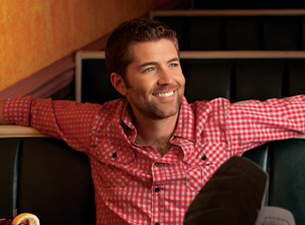 Josh Turner: so sexy

1. Time Is Love- Josh Turner: This man has the sexiest voice ever, so of course his (relatively) new single must be on the list. I saw him at Stagecoach last year, and let me tell you, his voice is just as impressive in person.
2. The Vision of Love- Kris Allen: I love love loved Kris Allen (and the monkey mouth he makes when he sings) back on American Idol Season 8. His new single is wonderful, it's a beautiful message.
3. Jason Aldean- Fly Over States: This song is not new by any means, but it is his current single and has been getting lots of airplay on the radio lately. Since I will soon be moving to one of those "fly over" states, it has new meaning to me, and I can't wait for my trip to visit grad schools when I will literally be driving though Indiana.
4. Boyfriend- Justin Bieber: Ok, I'm still not sold on the weird whisper rapping parts, but the song is slowing growing on me. What can I say, I just love me some JBiebs...
5. No Man's Land- Will Hoge: This guy is someone you may not have heard of, but if you're a country fan you have probably heard his song "Even If It Breaks Your Heart" covered by the Eli Young Band. I LOVE this song, and I was actually a little peeved when I learned that it was not an Eli Young Band original. It made me sad that Will Hoge isn't getting the credit he deserves for his beautiful song. But it did lead me to check out Will Hoge's newer music. I enjoyed his entire Number Seven album; No Man's Land, Fools Gonna Fly, and Goddamn California are my favorites.
Check out Will singing his original version of "Even If It Breaks Your Heart" below.
He is a lil sweaty for my liking here... But I love his raspy voice.
Let me know what y'all are listening to this month!