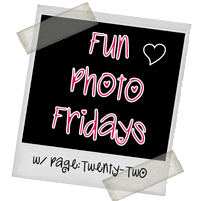 Hey All!
Today I am linking up with
Page Twenty-Two
for Fun Photo Fridays! Do you have a picture you wish you could jump back in to right now? Well that's exactly what we're gonna do! Go check out Shannon's blog and join in with this adorable link up!
Today I want to jump back in to these photos. This was two years ago when a couple of my best friends and I went to my first T-Swift concert. This night was so epic.
We splurged with four other girls and took a limo to the concert (we also took that limo to In-And-Out before the concert!). We arrived in style and headed up to the deck to take some pictures with LA Live in the background before heading inside to our seats.
Britt, Jo, and I (pictured above) had TERRIBLE seats. There were literally only two rows behind us, we were just about as far away from the stage as you could get. But, Natalie, Karissa and the two other girls had floor seats. They were nice enough to invite us down to watch "Love Story" and "White Horse" from their seats.
Now, comes the epic part of the story... We were in the elevator on our way back to our seats (we might have stopped by the merch table to get t-shirts before heading back up) and we were ranting and raving about how nice the other girls had been. A man and woman in the elevator with us asked "What was so nice?" We all sort of froze because we thought we might get in trouble, but I realized there was nothing they could do now so I said "Oh our friends have really good seats and they let us come see a couple songs from their seats since ours are so bad" the couple responded that that was in fact very nice of them. The elevator doors opened and we started to walk away when the man said "hey where are you guys going?" we responded that we were headed back to our seats. Then he said "Well I was going to give you guys passes to the pit... but if you don't want them..."
We literally screamed as he put the passes on our wrists! It turned out that he was Taylor's merchandise manager (good thing we bought those shirts right?!). We posed for a pic with him. Then literally ran through Staples center to our new seats in the pit and got to watch the rest of the concert from there. Hence that pic of Taylor in the center... no zoom.
It was an amazing night with amazing friends and of course the always amazing Taylor Swift. Certainly something I will never forget.
Have any of you guys had epically amazing concert experiences? I would love to hear about them!