Last week I discovered that there is an Ohio Blogger Meet-N-Greet going on in July, and I am beyond sad that I will not yet be in Columbus to attend.
I can only hope that another similar event will take place after I've moved in August.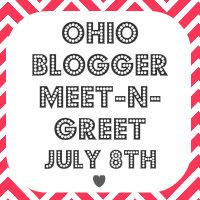 Blogging seems to be a much bigger pastime of those in the Midwest/South than it is of those of us here on West coast.
Don't get me wrong I follow some great West coast bloggers like StressCase and of course my good personal friend Bethany over at Life So Sweet.
But the large majority of girls I follow are not from over here in the best coast, and not gonna lie... I'm pumped to be joining the midwest bloggers soon. However I will be sad to be leaving the land of sand and sun.
I may or may not have stalked the link list of those attending and followed a bunch of Ohio bloggers, in hopes that I won't miss the next Ohio blogger Meet-N-Greet!